Security Bags & Custom Bags
What make OTCO, Inc's locking security bags, bank bags, zippered bags different?  All of OTCO's products are designed and manufactured, customized to your specs, out of our factory of 35 employees right here in Fond du Lac, Wisconsin.  Pick from hundreds of options for sizes, materials, colors, locks, and more. Bags can also be personalized with your company name or logo via silk screen imprinting or embroidery.
OTCO, Inc. offers: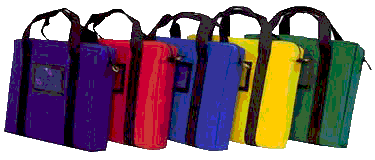 Gusseted Inter Office & Briefcase Bags
Locking Security Bags
There are a many reasons to use a lockable security bag from transporting and securing money or valuables, sensitive documents, restricted materials like medication, or personal use.  Locking security bags are made to keep unwanted eyes and hands away from your valuable or sensitive materials.
Larger locking security bags are HIPAA also compliant! These are great for any need from banking bags, medical bags, document bags for businesses, retailers, government, medical and school facilities.
Locks: All locking security bags come standard with high security built-in pop-up lock. Each lock comes with two keys per lock, bags can be keyed alike, keyed different or master keyed.
At OTCO, Inc. we can customize locking security bags to YOUR specifications. Whether you're transporting cash, documents, valuables, medicine, etc. we can create a bag to suit your needs.
OTCO's locking bank bags are tough!  Individually hand-crafted bags from 1000 Denier Nylon to Basket Weave Nylon – the toughest fabric in the business! It's virtually impossible to tear!
Security bags from OTCO, Inc. can take a beating. Puncture them and simply rub the area surrounding the hole and this revolutionary fabric will repair itself! The puncture just disappears.
Non-Locking Bags
In addition to a wide assortment of locking bank bags, OTCO, Inc. can create a non-locking bank bag that will fit your needs.  Zippered bank bags can be customized to fit your requirements.  Pick from hundreds of options for sizes, materials, colors, and can be personalized with your company name or logo.
And remember, we also offer sewn in tags, silk screening, or embroidered logos on all bags so YOUR bags match your brand!
At OTCO, Inc. we're dedicated to giving our customers a quality product, manufactured in the USA, with a great turnaround time.