Locking Courier Bag
The Locking Courier Bags are made for maximum security and built to last!  Ideal for transporting and securing your confidential documents. The Locking Courier Bag are great for transporting paperwork, cash, checks, mail, medical supplies, in a safe secure way! Locking Courier Bag are an ideal transport solution for offices, retailers, banks, schools, casinos and government agencies.  Built with durable 1000 Denier Nylon or Basket Weave Nylon and tuff hide trim. Combined with sturdy webbed handles and secure built in pop-up lock.  All these durable features making a secure locking courier bag to transport your valuables in a safe secure way.
Don't forget that all bags can be customized to fit your needs!  We can also personalize your bag with silk screen imprinted or embroidered with your company name or logo.
Bag Features:
 Brass zipper closure
 Durable 1000 Denier Nylon or Basket Weave Nylon -resists abrasions, tears, scuffs and punctures
 Tuff hide trim and skirts
 Rubber feet to increase life of bag
 Framed identification window/cardholder
 High Security built-in pop-up lock riveted to bag – comes with two keys per bag with three different keying options – keyed alike, keyed different or master keyed.  Master keyed locks- all bags keyed different then you can order 'X' number of master keys that could open all bags.
 Durable webbed handles that could carry hundreds of pounds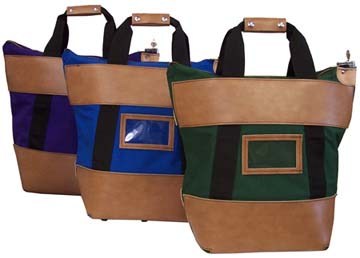 All locking courier bags are custom made in the USA with hundreds of options of size, material, color, lock, cardholder, etc.. Don't forget all bags can be personalized with company name or logo.
Call today (920-923-4780) or submit a Request for quote today!
Fill Out Below to Request a Quote Today!
At OTCO, Inc. we're dedicated to giving our customers quality products!
All items are manufactured in the USA, with  great turnaround times.